Welcome back to my Posterous readers! This is the new place for my Blog.
Further to the decision of Posterous parent company (Twitter) to close operations on April 30th, 2013, I had to hastily move my Blog to these new premises, for which I have full ownership. The migration was not easy, involving some efforts and (mild) profanity, but here it is. There is still some little glitches here and there (especially link to videos that were lost in the process), but these should be fixed very quickly.
Apparently, Posterous founders have launch a new site called Posthaven to shelter Posterous refugees, at 5USD/month: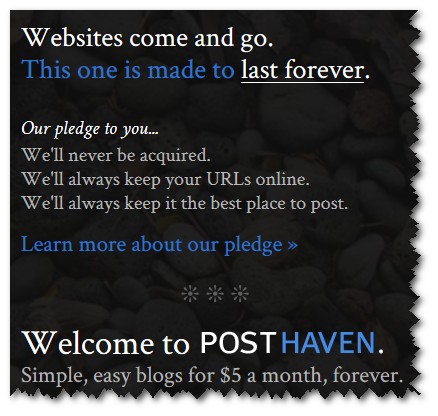 Last forever? Mmm… "Fool me once…", etc. Furthermore, 5 USD per month is what I pay not only for hosting this Blog, but also my french Blog "Le blog ferroviaire", as well as a part of my Railway web pages www.fdelaitre.com. So, no Thanks!
Stay tuned!