Archive for the 'Miscelleanous' Category
After Altern and Multimania, and due to the closure of its Web pages by French operator SFR, my Railway Pages have moved permanently to:
Welcome back to my Posterous readers! This is the new place for my Blog.
Further to the decision of Posterous parent company (Twitter) to close operations on April 30th, 2013, I had to hastily move my Blog to these new premises, for which I have full ownership. The migration was not easy, involving some efforts and (mild) profanity, but here it is. There is still some little glitches here and there (especially link to videos that were lost in the process), but these should be fixed very quickly.
Apparently, Posterous founders have launch a new site called Posthaven to shelter Posterous refugees, at 5USD/month: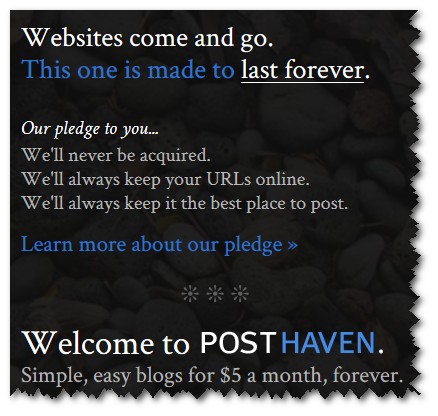 Last forever? Mmm… "Fool me once…", etc. Furthermore, 5 USD per month is what I pay not only for hosting this Blog, but also my french Blog "Le blog ferroviaire", as well as a part of my Railway web pages www.fdelaitre.com. So, no Thanks!
Stay tuned!
With the Divertimento Symphonic Orchestra of Stains (Seine-Saint-Denis, France) under the direction of Zahia Ziouani.
It starts in a few minutes in Paris, at the Espace Pierre Cardin near the place de la Concorde. The audience is registering…
Santa Shark is an inflatable structure greeting visitors above the entrance of Paris Aquarium in the Trocadéro gardens, Paris, France. Note on the second photograph, taken from the opposite side, the quality of the reproduction including dorsal and caudal heterocercal fins. On the bottom, the air pipe maintaining the stuff more or less inflated.
"Each day dawns but once."
Paris, Parvis du Trocadéro, October 24th, 2011 – 08h07 a.m.
Sunset on the Zurich Old Town, taken from the Lindenhof terrace (September 14th, 2010).
Two weeks ago, while strolling in the streets of Zürich, I bumped into this ad displaying "El Capitan", photographed by Thomas Struth (currently an exhibition at Zürich Kuntshaus). Funny thing to be standing face to face with this Yosemite landmark almost one year after my visit there, as if I was stalked