Archive for the 'Models' Category
After Altern and Multimania, and due to the closure of its Web pages by French operator SFR, my Railway Pages have moved permanently to:
When Route 66 becomes for a short while 7th Street, for sure, you have reached Joplin, Missouri. The town, once a booming mining community and a busy railroad hub, is famous for being the birthplace of actor Robert Cummings, Afro-american poet Langston Hughes, and the one of the most famous railroad modeller of all times.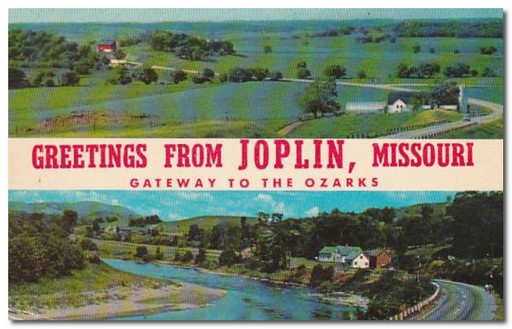 John Whitby Allen was born in Joplin on July 2nd, 1913. Omar Khayam's Moving Finger decided to make here a round figure: John died in Monterey, California, on January 1973; making of 2013 – 100th anniversary of John's birth and 40th anniversary of his passing – more than ever the  "John Allen Year".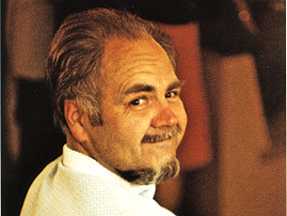 Some aficionados of the Wizard of Monterey gathered on the GandD Yahoo List launched the idea of a worldwide breakfast this morning, July 2nd. Mandatory menu should include at least (in-line with US railroaders practice): coffee, pancakes and jam (interestingly also an acronym for John Allen Memorial). For jam: strawberry is recommended as this fruit can be found in large quantities around Monterey (however, as a result of having mis-configured the GPS of my car and having been circling quite a while in the nearby Salinas plain, I can assure you I have seen more salad fields than strawberry farms, anyway…)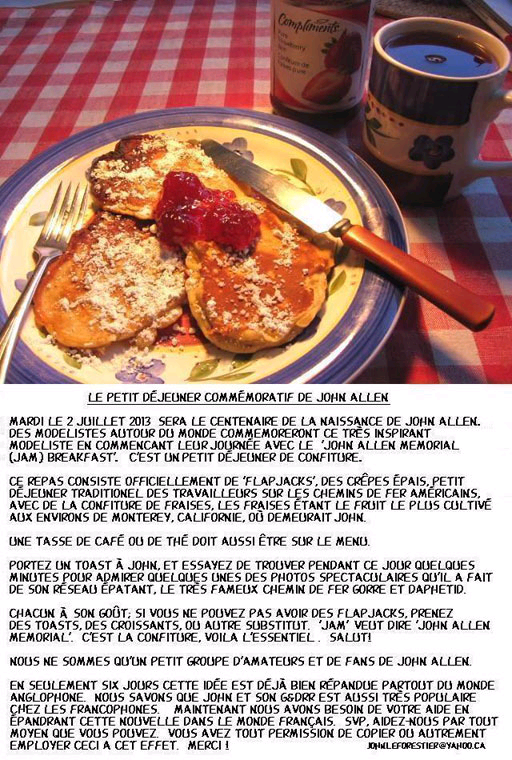 French version of the John Allen Memorial Breakfast Poster
I must confess that I am not a big fan of pancakes with strawberry jam. So  I will limit myself today to read a few pages of "The Book", a.k.a. Model Railroading with John Allen by Linn H. Westcott. I will be working also on a special modelling project connected to the Gore & Daphetid, as an humble tribute to the man who – adapting the famous phrase of François Truffaut about Orson Welles – summed-up 50 past years of model railroading and announced the 50 years that would come.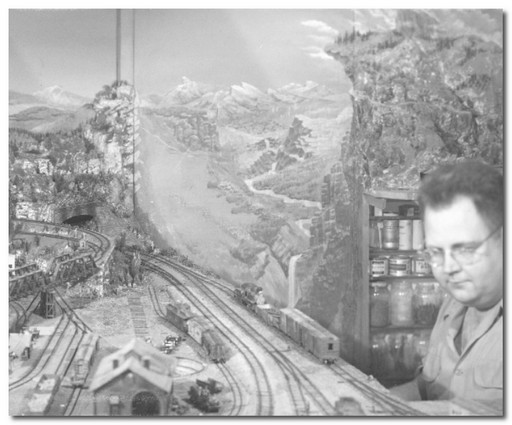 John Allen at the controls of the second G&D in Irving Street, Monterey, circa 1950. In the foreground, the famous engine shed and the HOn3 track of the Devil Gulch and Helengon.
In the background: the Mount Alexander.
Today, we commemorate the 40th anniversary of the untimely death of John Allen, US model railroader (b. July 2nd, 1913 in Joplin, MO, deceased in the evening of January 6th, 1973 in Monterey, CA). Ten days later, on January 16th, 1973, an accidental fire destroyed the his lifetime work : the Gorre & Daphetid Railroad.
Some links (in French) on my Blog:
http://www.fdelaitre.org/wp2/
Just received the new BCH International re-edition of the Baldwin 0-4-0 manufactured by Minitrains in the 60s. Two versions displayed here: black without lettering and #12 "Island Railway Coal Co.".
More details in a future issue of
Voie Libre
.
Received my HOn30 Minitrains set. BCH International from Johnstown, PA, has re-issued this grand classic of the 60s. Includes Plymouth switcher and 10 wagons. More about it in the "What's New?" section of Voie Libre n°60.
A new addition to my HOn3 layout, the new Blackstone Models "Long" caboose 0540 from the Denver & Rio Grande Western. Prototype belongs to a series of five cabooses re-built between 1912 and 1925 from older (1880s) cars. My model bears the "Royal Gorge" Herald and is slightly factory-weathered, . #0540 was the last caboose to operate on the D&RGW. It is now preserved on the Durango & Silverton.
Where modern-era model railroading began with John Allen's Gorre & Daphetid. Inspiring place, a great moment.
A real sample that may prove useful to modelers for (heavy) weathering of a model car (seen today on the Sausalito Marina).
Famous German manufacturer Preiser, well known as a figurine maker for the model railways, has issued a model of the President of the United States and First Lady under reference 28144 in HO (1:87) scale. Price : 3.45 EUR (approx. 5 USD). Alas, Parlor Car #300 "Georgia", built by Pullman Standard in 1930 and used by Pdt. Carter, Reagan and recently by President-elect Obama during his whistle stop campaign still has to be produced by a model railway manufacturer.