Archive for the 'USA' Category
After Altern and Multimania, and due to the closure of its Web pages by French operator SFR, my Railway Pages have moved permanently to:
When Route 66 becomes for a short while 7th Street, for sure, you have reached Joplin, Missouri. The town, once a booming mining community and a busy railroad hub, is famous for being the birthplace of actor Robert Cummings, Afro-american poet Langston Hughes, and the one of the most famous railroad modeller of all times.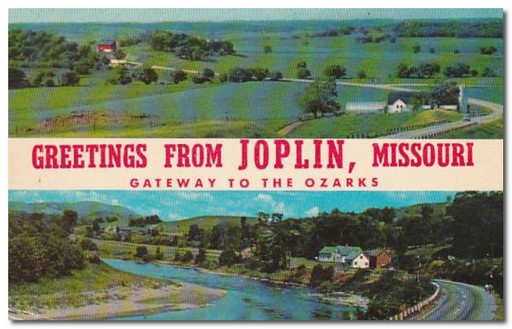 John Whitby Allen was born in Joplin on July 2nd, 1913. Omar Khayam's Moving Finger decided to make here a round figure: John died in Monterey, California, on January 1973; making of 2013 – 100th anniversary of John's birth and 40th anniversary of his passing – more than ever the  "John Allen Year".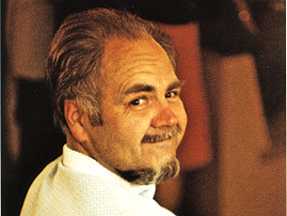 Some aficionados of the Wizard of Monterey gathered on the GandD Yahoo List launched the idea of a worldwide breakfast this morning, July 2nd. Mandatory menu should include at least (in-line with US railroaders practice): coffee, pancakes and jam (interestingly also an acronym for John Allen Memorial). For jam: strawberry is recommended as this fruit can be found in large quantities around Monterey (however, as a result of having mis-configured the GPS of my car and having been circling quite a while in the nearby Salinas plain, I can assure you I have seen more salad fields than strawberry farms, anyway…)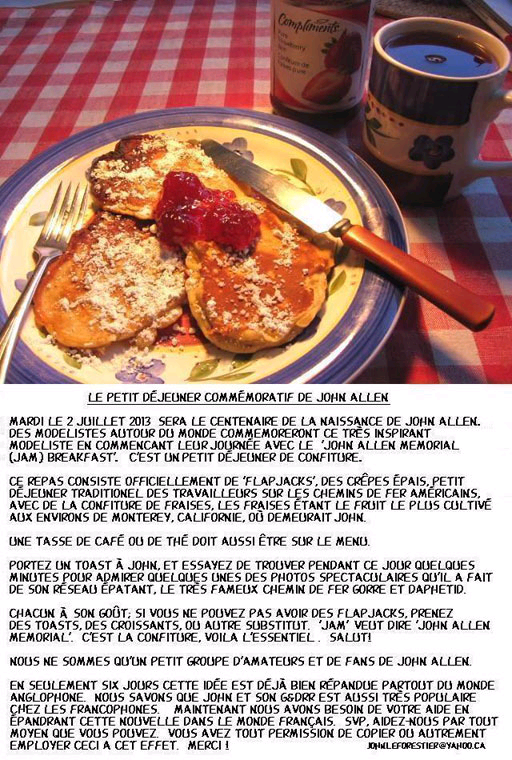 French version of the John Allen Memorial Breakfast Poster
I must confess that I am not a big fan of pancakes with strawberry jam. So  I will limit myself today to read a few pages of "The Book", a.k.a. Model Railroading with John Allen by Linn H. Westcott. I will be working also on a special modelling project connected to the Gore & Daphetid, as an humble tribute to the man who – adapting the famous phrase of François Truffaut about Orson Welles – summed-up 50 past years of model railroading and announced the 50 years that would come.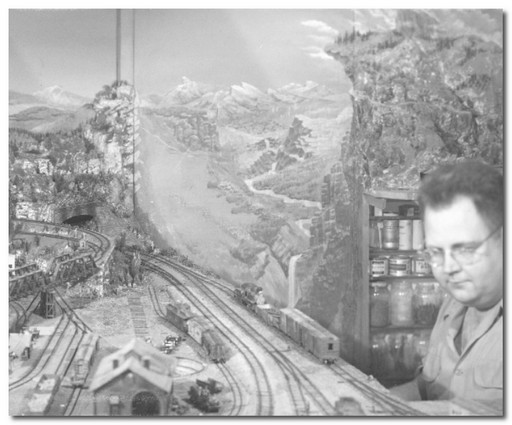 John Allen at the controls of the second G&D in Irving Street, Monterey, circa 1950. In the foreground, the famous engine shed and the HOn3 track of the Devil Gulch and Helengon.
In the background: the Mount Alexander.
Today, we commemorate the 40th anniversary of the untimely death of John Allen, US model railroader (b. July 2nd, 1913 in Joplin, MO, deceased in the evening of January 6th, 1973 in Monterey, CA). Ten days later, on January 16th, 1973, an accidental fire destroyed the his lifetime work : the Gorre & Daphetid Railroad.
Some links (in French) on my Blog:
http://www.fdelaitre.org/wp2/
Some narrow gauge trams and trolleys from Disneyland Paris, far away from home. See also my "Blog Ferroviaire" (in French).
Two weeks ago, while strolling in the streets of Zürich, I bumped into this ad displaying "El Capitan", photographed by Thomas Struth (currently an exhibition at Zürich Kuntshaus). Funny thing to be standing face to face with this Yosemite landmark almost one year after my visit there, as if I was stalked
Shay 3-trucks #10 on the Yosemite Valley Sugar Pine RR, August 8th, 2009.
(c) F. Delaitre 2009-2010. Full screen version on my Web site: www.fdelaitre.com
Smoke bellows seen from the window of my suite at the Disneyland Hotel in Paris. January 9th, 2010, 09.11. Disneyland RR, Main Street Station.
On the Highway 395, between Los-Angeles and Bishop, CA. August 4th, 2009.
"Terror in the rear view mirror"
. A tribute to the famous 1971 thriller by a young and promising Director named Steven Spielberg. Photo (c) 2009 by Frederic Delaitre.
Saw today at the California State Railroad Museum in Sacramento the X4294, an AC-12 Cab-Forward from the Southern Pacific. It's HUGE.